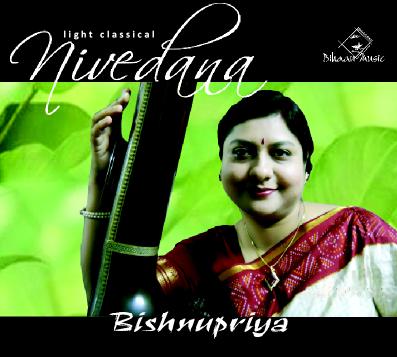 Nivedana
Classical Vocal | Vocal Recital
---
---

Bishnupriya Chakrabarty, 'gandabandh shagird' of Pandit Guru Biresh Roy has been trained intensively, since childhood in the facets of Kirana Gharana. A gold medalist and "Pandit Girija Shankar Award" winner in Sangeet Bharati examination from Gitabitan, Bishnupriya has participated and won accolades in various music competions like the Dover Lane Talent search and has participated in various concerts like the "Sadarang Music Conference" and the like.

She has also received valuable guidance from Smt Saswati Choudhury, ace disciple of Pandit A. T. Kanan and ex-scholar of Sangeet Research Academy.

Bishnupriya is endowed with a deep mellifluous voice with special expertise in Khayal, Thumri & Bhajan and her renditions are a tribute to her Guru Pandit Biresh Roy. The Bhajans have been set to tune by her Guruji and specially the Bhajan 'Prabhu ka naam' is composed by Panditji himself.
PRODUCT DETAILS
---
Type : Audio CD
Item(s) : 1
Coupling No. : CD-BMC-265
Released : August-2011
Pkg Type : Hard Bound 2-Folder
Net Wt. : 56 gms