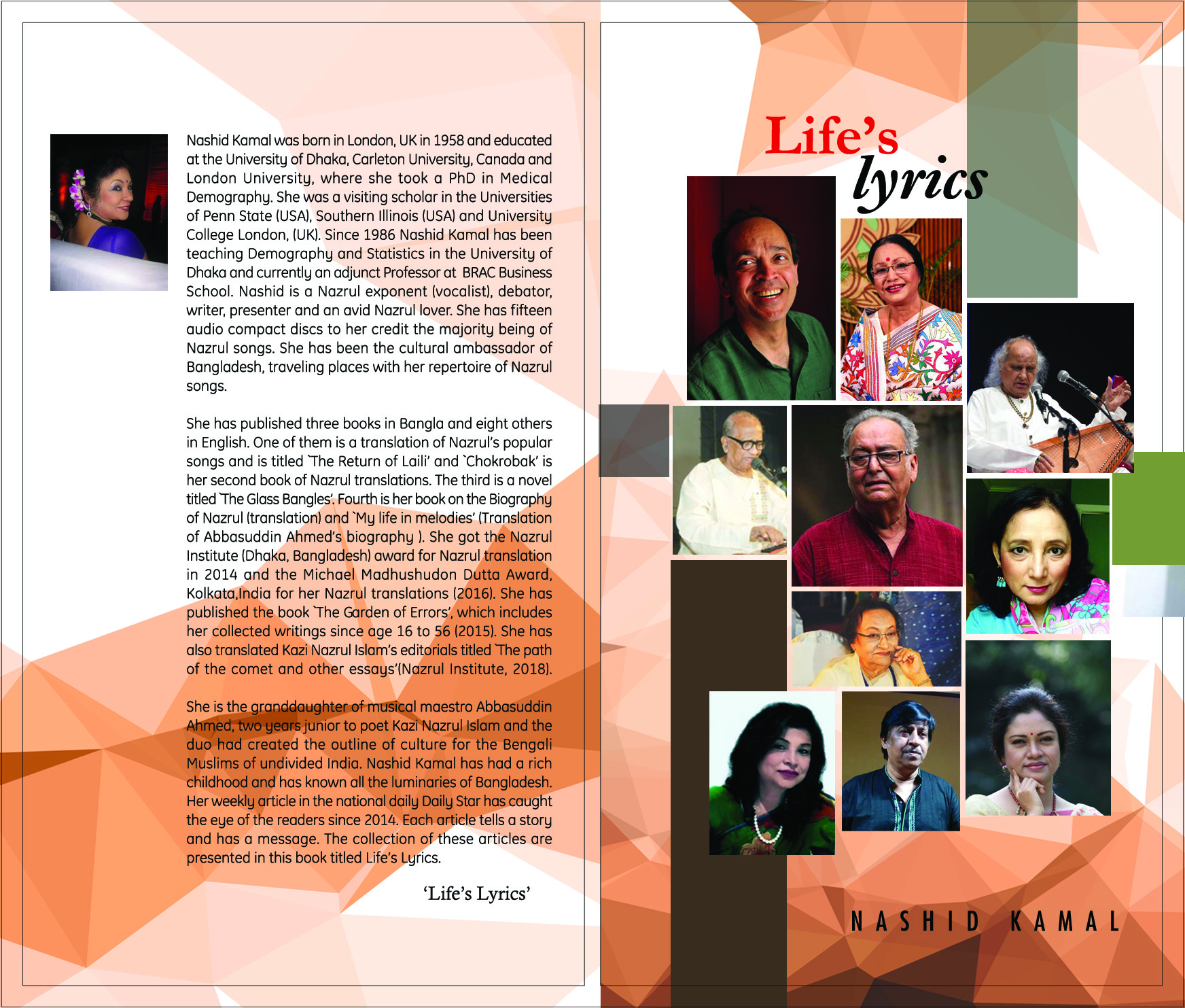 Life's Lyrics
BOOKS & PERIODICALS | Articles Collection
---
---

Nashid Kamal was born in London, UK in 1958 and educated at the University of Dhaka, Carleton University, Canada and London University, where she took a PhD in Medical Demography. She was a visiting scholar in the Universities of Penn State (USA), Southern Illinois (USA) and University College London, (UK). Since 1986 Nashid Kamal has been teaching Demography and Statistics in the University of Dhaka and currently an adjunct Professor at BRAC Business School. Nashid is a Nazrul exponent (vocalist), debator, writer, presenter and an avid Nazrul lover. She has fifteen audio compact discs to her credit the majority being of Nazrul songs. She has been the cultural ambassador of Bangladesh, traveling places with her repertoire of Nazrul songs.

She has published three books in Bangla and eight others in English. One of them is a translation of Nazrul's popular songs and is titled `The Return of Laili' and `Chokrobak' is her second book of Nazrul translations. The third is a novel titled `The Glass Bangles'. Fourth is her book on the Biography of Nazrul (translation) and `My life in melodies' (Translation of Abbasuddin Ahmed's biography ). She got the Nazrul Institute (Dhaka, Bangladesh) award for Nazrul translation in 2014 and the Michael Madhushudon Dutta Award, Kolkata,India for her Nazrul translations (2016). She has published the book `The Garden of Errors', which includes her collected writings since age 16 to 56 (2015). She has also translated Kazi Nazrul Islam's editorials titled `The path of the comet and other essays'(Nazrul Institute, 2018).

She is the granddaughter of musical maestro Abbasuddin Ahmed, two years junior to poet Kazi Nazrul Islam and the duo had created the outline of culture for the Bengali Muslims of undivided India. Nashid Kamal has had a rich childhood and has known all the luminaries of Bangladesh. Her weekly article in the national daily Daily Star has caught the eye of the readers since 2014. Each article tells a story and has a message. The collection of these articles are presented in this book titled Life's Lyrics.
PRODUCT DETAILS
---
Type : Book
Item(s) : 1
Coupling No. : ISBN
Released : January-2019
Pkg Type : Paper back
Net Wt. :