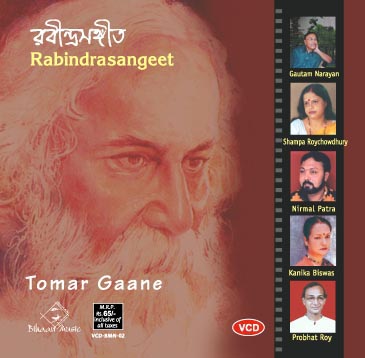 Tomar Gaane
Rabindra Sangeet | Vocal Recital
---
Nirmal Patra Gautam Narayan Dutta Shampa Roy Chowdhury Prabhat Roy Kanika Biswas
---





Gautam Narayan Dutta, a B-High artist of Akashvani has offered in his Rabindra Sangeet Album 'Anandodhwani', nine selective songs of Tagore. He is trained under the tutelage of eminent artist Smt. Maya Sen. He was also closely associated with the maestro of Rabindra sangeet, Sri Debobrata Biswas. His melodious voice will positiviely attract the listeners.

He is also a Mouth Organ Player, and his Album Name "Harano Sur" Instrumnetal Tune based on Bengali Mordern Songs give the feeling to the listeners of nostalgic melodious mood.

This is an album with a few famous compostions of Tagore in a truly pleasant voice of Kanika Biswas. The album comprises a collection of eight songs of various moods. Each song has been performed in a very matured way.
PRODUCT DETAILS
---
Type : VCD
Item(s) : 1
Coupling No. : CD-BMC-002
Released : March-2004
Pkg Type : Jewel Box
Net Wt. : 80gms