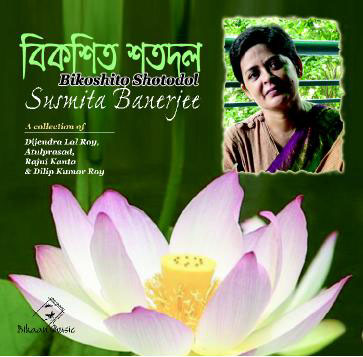 Bikoshito Shatodal
Modern & Traditional | Dwijendrageeti
---
---

The late 19th and early 20th century, Bengali music has been a story of Rabindranath Tagore's prowess.But overshadowed by him are a number of his contemporaries who have been equally adept in bringing out their own styles of music. These music, with their gripping lyrics and melodious tunes are a real testament to the pinnacle of glory that Indian music had once reached.

In a bid to bring back to life those glorious pieces of music, Susmita Banerjee has left no stones unturned.In her soothing, mellifluous voice she has entranced us all with these soul-stirring music.

Dilip Kumar Roy (Grandson of Rajani Kanto Sen) acted as Susmita's friend, philosopher and guide as he tought her the nuances of such music.
PRODUCT DETAILS
---
Type : Audio CD
Item(s) : 1
Coupling No. : CD- BMC-112
Released : April-2007
Pkg Type : Jewel Box
Net Wt. : 80gms