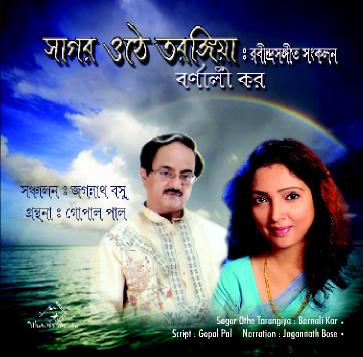 Sagor Othe Tarangia
Rabindra Sangeet | Vocal Recital
---
Barnali Kar Jagannath Basu
---




The Ocean – serene, blue, unexplored, mysterious, unending, and at times, violent and unrelenting in its force, signifies many things to many people at once. And thus it has been down the ages – spawning and drowning cities and civilisations, occupying a grandstand seat in mythology, folklore and literature across the globe, forever loving and giving like a mother, forever terrifying in its power and unpredictability. Its vastness and many moods have been captured by many a poet and minstrel along the stream of time – both as an entity to be revered and loved, and as a symbol of eternity, of nature itself.

Tagore too, in his inimitable style, has captured in his verses, the vastness and different dimensions of the Ocean – as an infinite fountain of human emotions.

This album – "SAGOR OTHE TARANGIYA" – is a "daisy chain" of seven Tagore's songs where the ocean (Sagor) is a common thread. The script has been written by Gopal Pal, an ardent student of Tagore's works for many decades, the oration delivered by Jagannath Bose, who needs no introduction, and songs sung by Barnali Kar – her first formal presentation.

An Electrical Engineer by vocation and training, Barnali is also an avid lover of music. She received her training in Hindustani classical music from early childhood under the tutelage of Guru Anil Dutta of Kirana Gharana. Later, she also received training in Rabindrasangeet from Sri Jyotirindra Mazumdar, nephew of Sri Shailajaranjan Mazumdar. She received Sangeet Prabhakar degrees in both vocal classical and Rabindrasangeet categories from Prayag Sangeet Samiti, Allahabad.

Born into a family where music and the arts were a part of everyday life during her formative years, her natural talent was nurtured carefully by her parents. The demands of her profession and family life during the later years pushed her passion for music into the background for a considerable period of time.

This presentation was perhaps, overdue by many years.
PRODUCT DETAILS
---
Type : Audio CD
Item(s) : 1
Coupling No. : CD-BMC-116
Released : September-2007
Pkg Type : Jewel Box
Net Wt. : 80gms