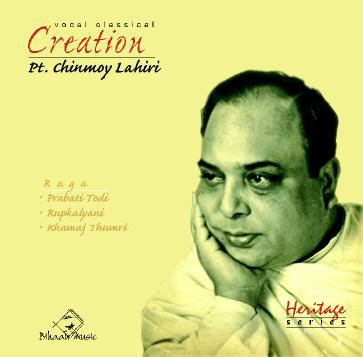 Creation
Classical Vocal | Vocal Recital
---
---

Throughout his life Pandit Chinmoy Lahiri experimented on different forms & techniques of music which has spanned the areas of music motives and ideas, created altogether a new genre of music. To him goes the credit of introducing

'Bangla Ragapradhan'

songs. He created several new ragas likeShyamkosh, Probhatitodi, Gandharika etc. He left his mark in the field of music direction of contemporary films as well. The Bengali song

"Triveni Tirthapathe..........."

tuned by him became very popular. He was a great teacher. Most successful Bengali musicians of the 1960's & 1970's owe their depth of perception into music to him. For a brief period he was a professor of Rabindrabharati University. He composed innumerable number of bandishes in Hindi & Bengali languages and is the author of the book

"Magangeet o Taan Manjari"

written in eight volumes.
PRODUCT DETAILS
---
Type : Audio CD
Item(s) : 1
Coupling No. : CD-BMC-066
Released : September-2006
Pkg Type : Jewel Box
Net Wt. : 80gms